We hang TV screens where they can be seen
With televisions getting bigger, thinner, smarter and more expensive, the task of mounting them to walls is getting evermore tricky. There's a lot at stake. One slip and your big domestic investment can come crashing down and smash all around you. That's if you try and mount it to a wall yourself.
Call in our team of expert wall-mounters and we'll make sure your TV hangs where it needs to be. We'll even make sure the wires are out of sight and out of mind.
Expert TV wall mounters who won't leave you hanging around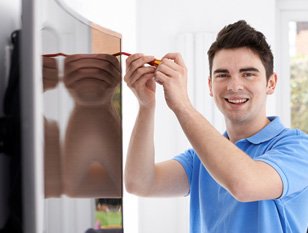 Quick to answer your call, our TV Wall Mounting team can get to locations in Essex, North London, Suffolk and Cambridgeshire, fast.

We serve homes who just need one or two TVs up on the wall, and commercial properties who might need several.
If you've just bought a brand new TV, or you've moved house or are just shifting things around at home, you should choose Essex Aerial Solutions to wall mount your TV because:
We're quick – our team has plenty of experience so can get the job done quickly to the highest standards.
We can do same day wall-mounting – give us a call and who knows, we could get round to you on the same day you buy your new TV.
We've got the expertise – with jobs like these, experience really counts. And our Engineers have plenty.
Our work is guaranteed for a year – that's how confident we are in the ability of our Engineers.
We'll help you choose the right bracket - Flush, tilt & swing, remote control. If you know what you want, or want to know what's best for you, we can help.
We do more than just hang up your TV
We'll also make sure it's working well by configuring your broadband, updating and upgrading any systems, downloading content and showing you how it all works if you can't be bothered to read through the instruction manual.
Commercial TV Wall Mounting
Big screen entertainment in pubs, bars, gyms and other commercial outlets is big business. If you're an owner of one of these establishments and you're opening a new venue or upgrading your TVs, call Essex Aerial Solutions.
We'll make sure your wall mounted TVs look the part and perform how you want them to. Whether you're looking for just one or several, we'll make sure they add to ambience of your establishment. And we'll make sure all those unsightly wires are out of sight.
Fully insured
Any wall-mounting work carried out by Essex Aerial Solutions carries full public liability insurance.
Call us now to book a TV wall mount appointment on 0800 559 3914.