Giving you a great service AND a great reception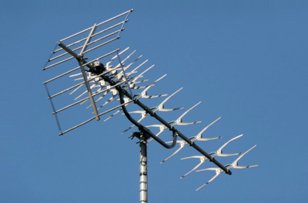 TV aerials bring sport, films, entertainment, documentaries and news into our homes from all over the world. We expect them to do their job 24/7 and we only really think our aerials when storms knock them out of alignment or faults give us bad TV reception.
Here at Essex Aerial Solutions, it's our job to think about aerials all the time and to be there when customers in Essex, Suffolk, Cambridgeshire and North London need us to fix faults.
We've an enviable track record of sorting all kinds of TV aerial problems for business and domestic customers in these areas. So whether your TV or DAB Radio Aerial needs fixing, replacing or upgrading, we're the ones to call first. Our number is 0800 559 3914
Call us for TV aerial upgrades and installations
Fixing and fitting aerials are jobs best left to experts like us. As well as the dangers inherent in getting up on your roof, knowing where best to place and point aerials is a skill in itself. And it's one all our Technicians possess.
Whether your home TV is on the blink or the reception of your TV at work isn't as sharp as it should be, call Essex Aerial Solutions. As our name suggests, we're experts at solving aerial problems, and quick to get your Freeview, YouView or BT Vision service back up and running.
If you live in an apartment complex or work in a public place like a prison or hospital, we're the people to call to fix your fault fast, as we're experts at providing aerial services for communal systems such as IRS, SMATV and MATV.
Choose Essex Aerial Solutions (EAS) for all these other aerial services too:
DAB Radio Aerial installations, repairs, adjustments and advice
TV Aerial cable checking (both inside and outside of your property)
Aerial Points Inspection
Servicing of your amplifiers and home distribution network
EAS makes getting your TV aerials fixed or installed EASY. And here's why:
We're ready to reach into places others won't or can't to fix or fit your TV aerial

We never forget the importance of great customer service

We are fast. Fast to answer your call. Fast to get to your home or business. Fast to install. Fast to repair. Fast to upgrade. Try us fast, we mean first.

We offer a Same Day Seven Days A Week service.

Only experienced Technicians work for us. They know all about digital aerials.

As an independent company, we can be trusted to give you honest opinions and recommendations when it comes to TV aerials.

We provide ongoing support via a service and maintenance package. Sign up and we'll check out your aerials four times a year to make sure all is as it should be.
Essex Aerial Solutions can be reached on 0800 559 3914.